blog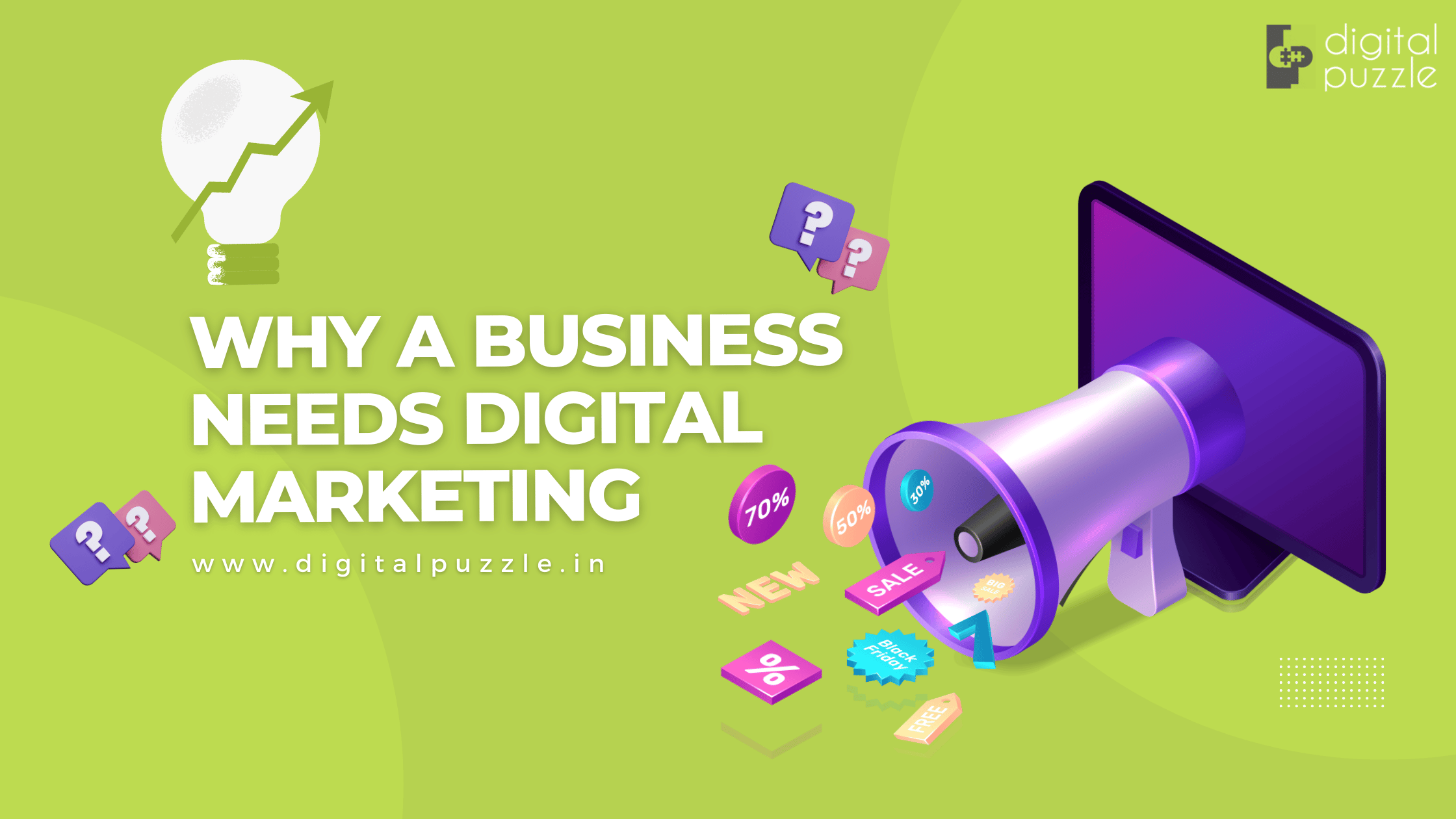 Digital Marketing is very important because it helps to connect businesses to their potential customers when they are online and is the most effective service in all industries. By providing companies with outstanding growth and outreach strategies, online marketing is a tool that has changed the face of modern business. Every business needs digital marketing, so it's very important to understand the benefits of using these services. Here are the main reasons why your business needs digital marketing.
Creating an online presence is very crucial:

Digital marketing's primary goal is to make your business visible online. When millions of audiences will see your brand, it enhances the chances of business growth. Otherwise, your business will be stagnant and will not prosper in size and scope. To ensure consistent and vast growth, the digital market is inevitable. 
Spread Awareness about the Brand:

Once your business becomes visible to large masses, the first step is taken. Then the next important step is to notify that audience and familiarize them with what your business is all about, what you offer and what you don't. Doing this will not just inform your general audience and internet surfers, but also entice potential clients to enter your business's sales funnel.
Keeps the audience informed about new happenings

: Digital Marketing is not a one-time thing, its services are consistent and repetitive. You need such services when launching a new offer or a range of products. If you don't have an active social media and internet presence, most of your followers will not get any notification on your website update and social media profile. You might lose the opportunity to grab your potential customer's attention. 
Being Dynamic in your Marketing Strategy:

Traditional marketing strategies are not as dynamic and easy to customize and change as digital marketing platforms and plans are. Digital marketing services will offer highly customizable and flexible options per your need. 
Breaking Geographical Barriers:

Only digital marketing can break physical and geographical barriers. There are no restrictions on regions and countries to which you can market your brand. Digital platforms can make the whole world your audience, no matter where you and your business are located. You can establish a global market without investing a substantial amount in marketing and making millions worldwide familiar with your brand. 
Mission: Our team's sole purpose is to provide your business with a smooth sailing experience with our expertise. We believe in doing smart work, and performing research-backed, creative strategies that will help you stay at the top of your business. 
Vision: Our vision is to be the best digital marketing company to let your business be armed with a distinctive tag. 
What Digital Puzzle Has To Offer:
Introduction of our services:
Search Engine Optimization: Search Engine Optimization means improving your site visibility when people search for your products or services related to your business on Google, Bing, or any other search engines. The more apparent your site is on the search engines, the more apt you are to gain attention and attract prospects and existing customers to your business.
Paid Advertising/ Pay Per Click: PPC is the method of driving traffic to your website by paying the publisher every time your ad is clicked. Paid Advertising is more expensive than other paid forms, it is the most effective way to promote your company's name to a large audience. One of the most popular PPC types is Google Ads.
Social Media Management: Social Media Management promotes your brand on various social media platforms like Facebook, Instagram, LinkedIn, and YouTube, to boost traffic to your website and other social media pages, generate more leads and also increase brand awareness.
Design and Branding: One of the first practices of the branding process is brand design. It holds important value to your company as it gives you a major edge in the competitive market. It is a two-way procedure i.e. the client-side and the agency side, they implicate equal sharing of responsibilities to get the required results that are effective for the company.
Website Development: Website Development is the process of building and maintaining websites. The practice that goes on behind the scenes is to make a website look great, work fast, and be well-performing with a seamless user experience. These skills are highly demanded since nowadays everyone wants to bring their business online. A promising website is the key to a profitable business!
Email Marketing:  Email Marketing is when you deliver a commercial email to your subscribers or the contacts who have signed in to your email list. It is used to enlighten, drive sales and construct a community around your brand. This marketing is one of the great elements of internet marketing which comprises online marketing via websites, social media, blogs, and more.